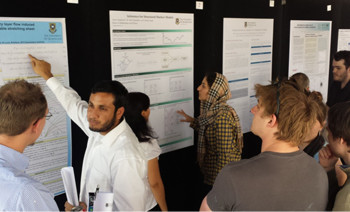 The School of Mathematics and Physics annual Postgraduate Poster Day is an event where all of our School's postgraduate research candidates are given the opportunity of presenting a poster to showcase their work.
All current SMP PhD and MPhil candidates are invited to present a poster and, in conjunction with achieving confirmation of candidature, entitles them to be eligible for $3000 in conference funding.
Poster viewing: 12-1pm
Award of prizes: 1pm followed by lunch
For more information about Poster Day, contact Murray Kane, SMP Postgraduate Coordinator (m.kane@smp.uq.edu.au).