The Early and Mid-Career Academics (EMCA) Committee aims to build a community of early and mid-career academics within the School of Mathematics and Physics (SMP). Its purpose is to provide advice and guidance on career paths for this community.
Chair: Markus Rambach
Secretary: Sharon Leemaqz
Members
Dr Markus Rambach Postdoctoral Research Fellow
Dr Eric He Postdoctoral Research Fellow    
Dr Lewis Williamson Postdoctoral Research Fellow    
Dr Guillaume Gauthier Postdoctoral Research Fellow    
Dr Sharon Leemaqz Senior Lecturer
Dr Carla Verdi Lecturer
Dr Benjamin Pope ARC DECRA Fellow       
Dr Jason Atnip Postdoctoral Research Fellow    
Dr Moji Ghadimi Research Fellow    
Dr Cullan Howlett Senior Research Fellow    
Dr Mahdi Abolghasemi Lecturer    
Events
Social events
Every fortnight, we organise an informal social event for all early and mid-career academics. If you'd like to be notified, just send an email to Sharon Leemaqz to be put on our mailing list.

BBQ
On Sunday 28 May 2023 we hosted the second end-of-semester barbecue at the gorgeous JC Slaughter Falls on Mt Coot-tha. A dozen or so EMCAs and their families shared a sausage sizzle (meat and vegetarian) in the comfortable undercover public picnic area surrounded by sunshine, with rainbow lorikeets bathing in a small pool and magpies and butcherbirds hungrily eyeing off the sausages.
Themed events
We regularly organise themed events where we invite speakers and discuss different topics that are important to EMCAs, such as work-life balance or job perspectives. These events are usually announced through the SMP-all mailing list.
Wellness Insights Event
On Tuesday 30 May 2023 we organised a wellness Insights event with the aim of acquainting early career researchers with the mental and physical wellbeing resources available at the University of Queensland.

The event emphasized the significance of maintaining good mental and physical health and provided valuable information on resources and support at UQ.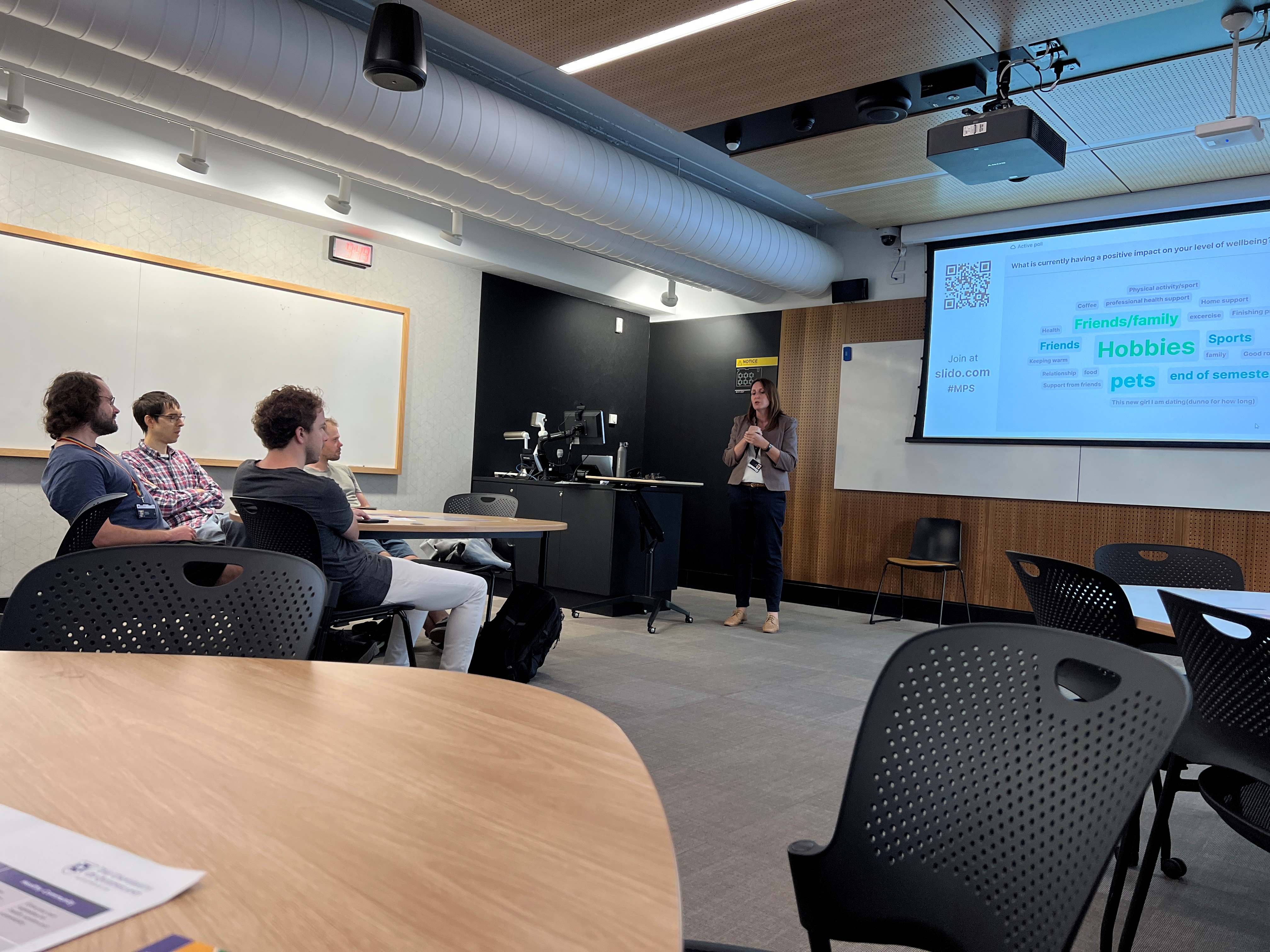 The event proved successful in fostering an interactive environment, allowing participants to openly share their experiences or contribute anonymously, while also learning about effective strategies to uphold positive wellbeing.

The event commenced with a series of interactive online surveys, covering various topics such as the current self-evaluated wellness level, positive aspects of working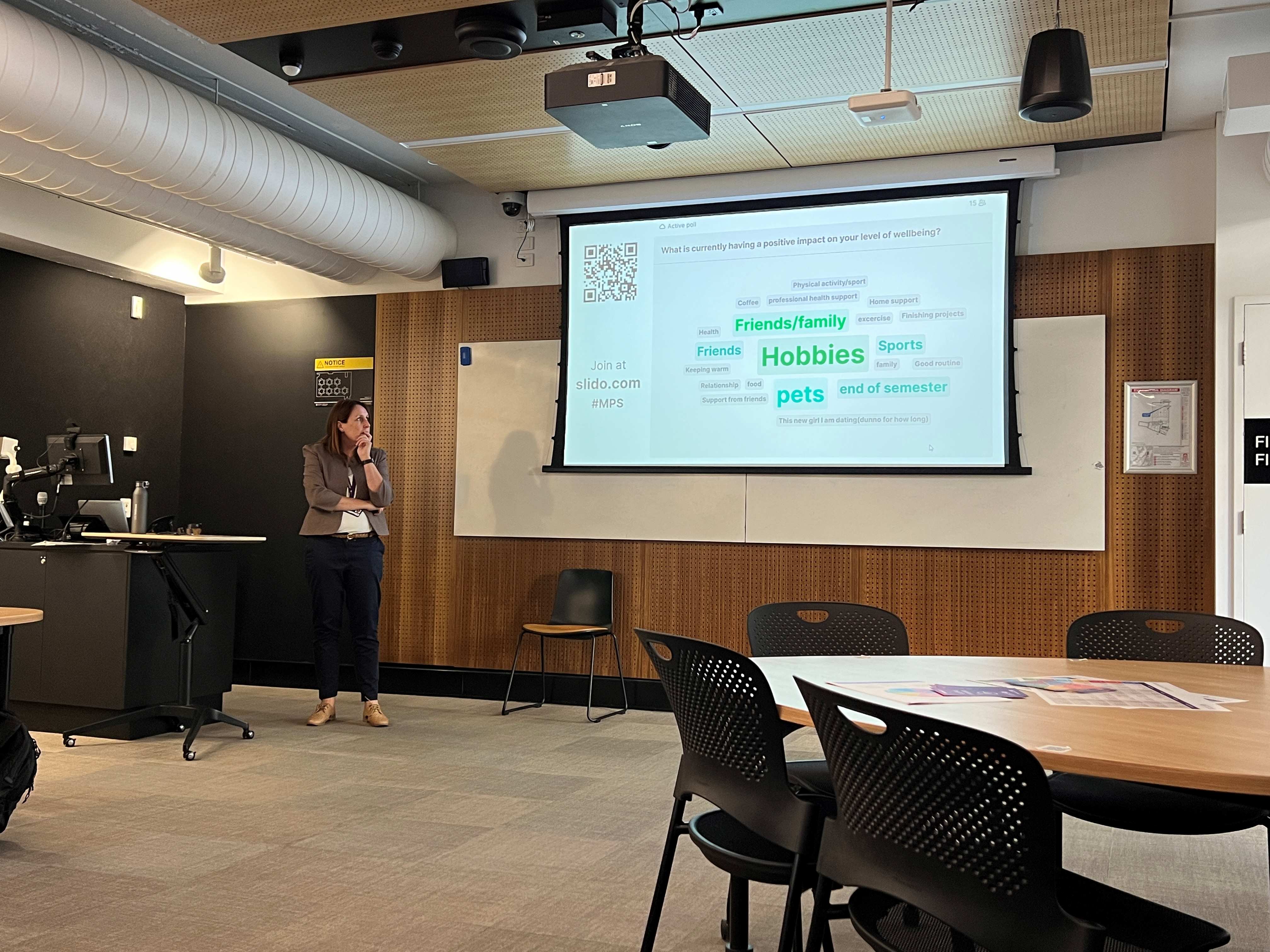 as a university researcher, and negative aspects that might cause stress and anxiety. Among many factors, the flexibility of work hours was identified as one of the positive aspects of research positions, and insecure jobs were identified as one of the negative aspects of the job. Subsequently, participants had the opportunity to share positive habits that contribute to their overall health and wellbeing, as well as identify one aspect of their lives they aimed to change in order to have a positive impact on their wellbeing. The event concluded by introducing lesser-known Employee Assistance Program (EAP) resources, which encompassed counselling service, financial advice, family law assistance, and free exercise and coaching program.

The event garnered a good turnout, and participants expressed a positive overall perception of the event upon its conclusion. The provision of morning tea at the end facilitated discussions and social interactions among the attendees, further enhancing the sense of community and support fostered by the event.
SMP EMCA Talk Competition
On Friday 29 September 2023, we held our annual EMCA talk competition, where we heard 6 excellent talks on some of the amazing research being carried out within our school. The form of the talks is based on the popular 3 Minute Thesis competition --- a maximum of 3 minutes and 1 slide to describe your research in as exciting a way as possible.
As usual there were a range of inventive, innovative, and inspiring approaches, making it difficult to choose a winner. Nonetheless, after putting it to an audience vote, Dr. Andrew Groszek won the top spot for his talk on "Weighing heavy things using gravity". Dr. Nandita Khetan won second prize for "Cosmology with cosmic fireworks", while Matt Craigie won the final prize explaining how "The Universe is NOT a cat". The Talk Competition will be back again next year and open to any EMCA's from across all of Mathematics and Physics, so please keep an eye out and sign yourself up!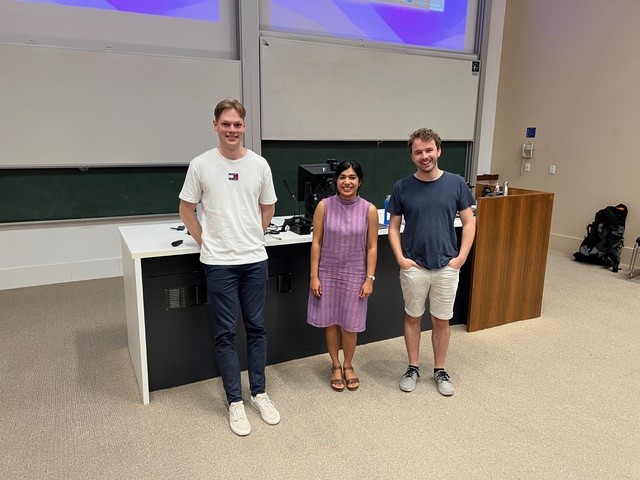 Resources
UQ offers support in the form of research funding administration and management, support for research prizes and awards, researcher development, and compliance incorporating human ethics, animal welfare, and research integrity.
Visit the UQ Research Support website for more details.
Contact
Email: smp.emca@uq.edu.au
Joining the Committee
We are always looking for committed people who would like to join our committee. If you're interested in joining, please send an email to smp.emca@uq.edu.au