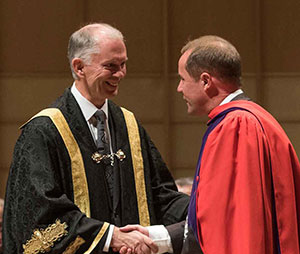 Each year the University of British Columbia (UBC), Canada, awards honorary degrees to individuals from around the world who have made substantial contributions to society.
ARC Laureate Fellow Professor Hugh Possingham of the UQ School of Mathematics and School of Biological Sciences has received a further international honour.
Professor Possingham was awarded a Doctor of Science, honoris causa, on November 25 for his contribution to the development of sound nature conservation principles worldwide.
A Professor of Mathematics and Professor of Ecology at UQ, Professor Possingham directs two national research centres, including the Australian Research Council Centre of Excellence for Environmental Decisions (CEED).
Special mention was made at the UBC ceremony of his work underpinning the rezoning of the Great Barrier Reef, the largest systematically designed reserve network in the world.
"It's particularly significant to be recognised in this way by UBC as their staff have led the world in the application of mathematical tools to solve natural resource problems," Professor Possingham said.  
"CEED has strong ties with UBC through a range of projects, exchanges and individuals working together. This honour will strengthen those ties.   
"Canada, and British Columbia especially, have been very successful in using our work on spatial planning, improving uptake internationally for better environmental decision making. There are definitely lessons Australia can learn from them in this regard."
Recipients of honorary degrees from previous years include David Suzuki, Muhammad Yunus and CS Holling. Also receiving honorary degrees in this year's ceremony are the Windle Trust executive director Marangu Njogu, atmospheric scientist Susan Solomon and occupational therapist Rachel Thibeault.
While at UBC, Hugh was also invited to address the graduating class (start from 24 minute mark).