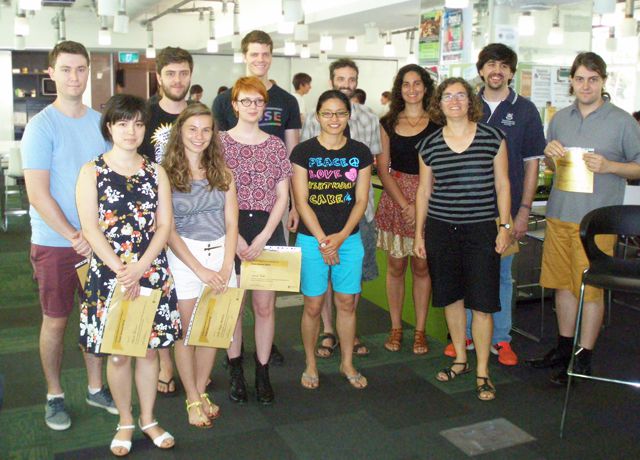 Our school relies heavily on tutors and we are lucky to have such a talented and helpful group of tutors to assist with the teaching in the School of Mathematics and Physics. We often receive feedback from students praising their tutors' efforts and enthusiasm.  The School thanks all of its tutors for their hard work. 
For the annual Awards, the Chair of SMP's Teaching and Learning Committee, Dr Barbara Maenhaut, received 34 nominations.  A total of 15 prizes were awarded to:
Physics tutors
Henry Nourse  PHYS1001, PHYS1002, PHYS3040, PHYS3051, PHYS3020labs
Michael MacDonald PHYS1001, PHYS1171 labs
Sarah Norton PHYS1002
Sarah Thomson PHYS1001, PHYS1171 labs
Behnam Tonekaboni PHYS2055, PHYS2041, PHYS2020, PHYS2055
Sam Nolan PHYS2041
 
Statistics tutors
Liam Hodgkinson STAT3004
Darcy Bermingham STAT2201 and ENVM2000
Amy Chan (many, many courses in mathematics and statistics)
 
Mathematics tutors
Iulia Popa-Mateiu MATH1051 Matlab
Sam Kault Super-tutor for MATH1051 and MATH1052
Amie Khosla MATH1051/MATH1052, MATH2000/1
Marielle Ong MATH1051/MATH1052
Vincent Mellor MATH1051/1052 Matlab coordinator
Scott Heiner MATH1061, MATH2302
Please get in touch for further information about becoming a casual tutor in 2016 for the School of Mathematics and Physics.