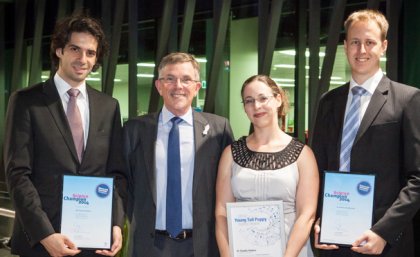 Three University of Queensland scientists were honoured at an awards ceremony in Brisbane on Tuesday (25 November).
Dr Claudia Vickers received a Queensland Young Tall Poppy Science Award, and Dr Andrew Stephenson and PhD candidate Hosam Zowawi were named as Queensland Science and Innovation Champions.
UQ Deputy Vice-Chancellor (Research) Professor Robyn Ward said the three young scientists illustrated how UQ research was tackling some of the world's biggest challenges.
"I congratulate this trio of high achievers on winning these awards, and I know many will join me in thanking them for their commitment to making the world a better place," she said.
Dr Vickers, from the Australian Institute of Bioengineering and Nanotechnology, is engineering biochemicals in yeast and bacteria with the aim of developing sustainable replacements for fossil fuel-sourced petrochemicals and aviation fuels.
Mr Zowawi, from the UQ Centre for Clinical Research, is developing a method to rapidly diagnose antibiotic-resistant "superbugs".
The tool potentially will allow patients to be treated quickly with the right antibiotics and minimises opportunities for the deadly bacteria to spread through the population.
Dr Stephenson, a science communicator with the UQ School of Mathematics and Physics, leads the UQ Science Demo Troupe in its travels to schools around Queensland and the Northern Territory.
He also runs BrisScience and the Junior Physics Olympiad.
Professor Ward said there were few areas of science more pressing than the need to find renewable replacements for fossil fuels or understanding potentially catastrophic intractable bacterial infections.
"But scientists also need to be excellent communicators, so we can inspire the next generation of young scientists, who will address the problems of the future," Professor Ward said.
Science Minister Ian Walker said science was an area where the best and brightest could change people's lives.
"We have some very impressive young scientists making their way up the ranks in Queensland and the work they are doing will have a huge impact on our future," Mr Walker said.
Mr Zowawi is a 2014 Rolex Young Laureate in Science and Health. Watch a short video on his work here. 
Watch a short video on Dr Vickers' work here.
Watch a short video on the UQ Demo Troupe here.