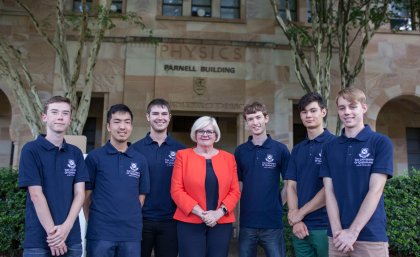 A team of young physicists from The University of Queensland has made history by becoming the first Australian team to win entry into the International Physicists' Tournament.
Having qualified in a preliminary round, the team of six undergraduate students from the UQ School of Mathematics and Physics - Ross Bennett, Chris Chang, Matthew Gray, Tomohiro Hashizume, Kwan Goddard Lee and Andrew Penton - will travel to Paris in April for the final rounds.
Team captain Andrew Penton said the event was a great opportunity to showcase Australia's next generation of Australian scientists.
"We will spend a week competing against 14 other countries," Mr Penton said.
"It's about more than just physics; it's about fostering relationships with like-minded students from around the world."
The annual tournament brings together undergraduate physics students from around the world to solve and debate physics problems.
For the last eight months, groups of six students worked to solve 17 physics problems and develop presentations which clearly outline their solutions.
They will be judged not only on their solutions, but also on how well they present their work, defend their results against challenges from other teams and provide constructive criticism about other's presentations.
Mr Penton said the team was grateful for the support of the Honorable Karen Andrews, Assistant Minister for Science, the Department of Industry, Innovation and Science, the Australian Academy of Science and UQ's School of Mathematics and Physics.
Watch our video
Media: Leonie Small, l.small@uq.edu.au, +61 3365 8598