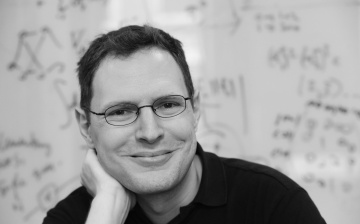 EQuS researcher Dr Ivan Kassal will receive funding to further his research in solar-energy harvesting using quantum effects following the announcement of the Westpac Bicentennial Foundation's inaugural Westpac Research Fellowships. 
Since 2008, Dr Kassal has worked at the forefront research on quantum effects in photosynthesis, deciphering the factors that contribute to the efficiency of solar-energy harvesting. 
Dr Kassal said: "The Westpac Research Fellowship means I can focus on my goal of translating fundamental scientific breakthroughs into advances in clean-energy technology."
"My project focuses on the design of better organic solar cells by examining the role of quantum coherence.
"Quantum coherence, which describes the wave-like properties of particles, is expected to play a fundamental role in the design of efficient, flexible and cheap renewable-energy devices."
The co-funded Fellowship program is the first of its kind in Australia. The Westpac Bicentennial Foundation has collaborated with Australia's leading research universities - The Australian National University, The University of Melbourne, The University of Queensland and The University of Sydney - to offer a holistic package of support for early career researchers.
Susan Bannigan, CEO of the Westpac Bicentennial Foundation, said that the impact of this joint investment goes well beyond the lives of these four individuals. 
"These early career researchers have the potential to shape our nation's future," Ms Bannigan said. 
"The Westpac Research Fellowships aim to give them – some of our country's best and brightest – the chance to shine and explore their potential.  In doing so, we are creating pathways for the innovators and true pioneers amongst us to really make their mark and shape history."  
"The co-creation of this Fellowship with our University partners is a great example of industry and education working together towards addressing the opportunities and challenging facing Australia."
The Westpac Bicentennial Foundation will contribute $330,000 toward each researcher's salary, leadership development and global opportunities, while the respective university partner will cover the associated costs of the research, ranging from $94,000 to $650,000 for the inaugural fellows.  
In early December, each candidate underwent an intensive assessment by a national selection panel, comprising elite business leaders and academics including David Thodey, Chair of CSIRO and Jobs NSW, and Professor Suzanne Cory, The Walter and Eliza Hall Institute. 
For more information on the Westpac Bicentennial Foundation visit www.westpac.com.au/200years.
Media: Dr Ivan Kassal, i.kassal@uq.edu.au; Emma Foster, Westpac Bicentennial Foundation, efoster@westpac.com.au;  Tara Roberson, Communications, equs.engagement@uq.edu.au