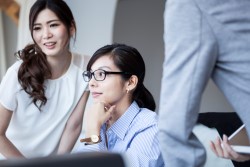 With capital markets and financial risk management becoming more quantitatively and computationally sophisticated, Financial Mathematics graduates are highly sought-after for their skills. Dr Duy-Minh Dang, Senior Lecturer at The University of Queensland (UQ) and Director of UQ's Master of Financial Mathematics program, chatted with us about how students of this program can equip themselves for rewarding careers in the financial industry. He also shared with us why the UQ Master of Financial Mathematics has been so successful.
What sort of students are you looking for the Master of Financial Mathematics program?
The University of Queensland's Master of Financial Mathematics has been designed to meet industry demand for skilled practitioners. The program is very suitable to students that have a background in mathematics, commerce, economics or econometrics, and want to develop essential skills in quantitative and computational analysis, mathematical modelling and stochastic processes necessary for being successful in a rewarding career in quantitative finance.
Students will graduate with a thorough understanding of the financial mathematics field and the skills for managing investment portfolios, developing financial products and pricing, and analysing business risk.
How does Financial Mathematics differ from Accounting or Economics?
First of all, the Master of Financial Mathematics is a Master in mathematics. So the students should expect and be prepared for lots of advanced mathematical concepts. A love of maths is a pre-requisite!
Generally speaking, financial mathematics develops and extends mathematical or numerical models without necessarily establishing a link to financial theory. Let's take, for example, observed market prices. In financial economics, students will focus on the structural reasons behind a company's share price. In financial mathematics, students will take the share price as given and obtain, via advanced mathematical tools, a "fair", i.e. no-arbitrage, price for a financial contract whose cash flows contractually depend on this share price. Accounting is even further away, since its focus is on an organisation's financial information.
Regular finance and accounting would prepare students for a corporate finance or accounting jobs, while financial mathematics would prepare them more for investment or risk-management kinds of jobs.
Students in the Master of Financial Mathematics program have the opportunity to do an industry placement. Can you give us some examples?
Since semester 1, 2015, we have sent a number of students on placements at large corporate organisations in diverse business areas, namely Suncorp (banking and finance), Qsuper (superannuation) and Intergen (electricitymodelling), with every likelihood of additional placements at Stanwell (electricity trading), starting from July 2016. The students' placement projects are those of practical importance to the placement providers, and the students have been able to apply knowledge equipped during the Master of Financial Mathematics program to make interesting and valuable contributions. This semester, Suncorp is taking three students on two separate projects. The feedback by the supervisors at Suncorp is very positive.
Read what UQ's Master of Financial Mathematics students have to say
Ms Yuchen Miao, from China, is due to graduate this semester.
I am currently doing my internship with Suncorp group for this semester and I really enjoy this wonderful experience. In this project, my task is mainly about the analysis of the current methodology.
in this project, I got a chance to really get access to the industry and have a face to face communication with staff. The amazing part is that you can get more fresh ideas from them and try to realise your ideas step by step. I think this internship will definitely enhance to my career after my graduation because it builds a bridge which I can use to put what I learned in class into practice. Also, it will be such an amazing thing for me and other students to know more about industry before graduation.
For those considering the Master of Financial Mathematics, I have to say this program is appealing and amazing cause you can learn a lot of interesting content and useful skills in this program. If you want to challenge yourself, maybe the Master of Financial Mathematics is a good choice for you.