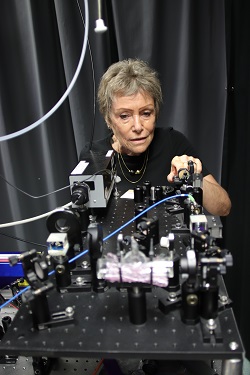 The discovery and development of an 'optical wrench' has won Professor Halina Rubinsztein-Dunlop AO the 2021 C. E. K. Mees Medal.
A Chief Investigator at the Australian Research Council Centre of Excellence for Engineered Quantum Systems (EQUS) and professor of physics at The University of Queensland, Professor Rubinsztein-Dunlop is a pioneer of the field of optical micromanipulation—that is, using light to manipulate and move tiny objects.
The C. E. K. Mees Medal, awarded by the Optical Society of America, recognises an original use of optics across multiple fields and achievements that exemplify the thought that 'optics transcends all boundaries'.
Professor Rubinsztein-Dunlop's win recognises her pioneering innovations in the transfer of optical angular momentum to particles, using sculpted light for laser manipulation on atomic-, nano- and microscales to generate fundamental insight and provide powerful probes to biomedicine.
Professor Cather Simpson at the University of Auckland said she was honoured to nominate Professor Rubinsztein-Dunlop for the award.
"Halina's interdisciplinary optics research is world-class, with far-reaching impact on our understanding of everything from the basic physics of atom trapping to how external stimuli are converted to neural signals in the brain," she said.
"At the same time, she is a stellar mentor, colleague and collaborator, who demonstrates excellent leadership in and out of the lab.
"I cannot imagine a more fitting winner of the C. E. K. Mees Medal—Halina represents the best of academic science."
EQUS Director Professor Andrew White—one of Professor Rubinsztein-Dunlop's nominators for the medal—said that Halina's great contribution was to realise that whirlpools of light—optical vortices—could be used both to trap objects and to change their rotation.
"Her research quickly moved the field from first observation, through detailed studies of the physics, to application," he said.
"Her introduction of the 'optical wrench' solved a long-standing problem in biology, allowing studies of biological fluids without touching them mechanically."
Professor Rubinsztein-Dunlop is the first woman to receive the C. E. K. Mees Medal in its 60-year history.
Her work in the field of optical micromanipulation began in the 1990s and initiated a quiet revolution that enabled numerous developments in the field and paved the way for efficient, entirely optically driven micromachines.
She was the first to demonstrate the transfer of angular momentum from light to microscopic objects within the light field, causing the objects to rotate.
She pioneered a method for producing micrometre-sized birefringent spheres—which bend light in two different ways—and was the first to demonstrate an optical system that could accurately measure the torque exerted by a trapping beam on a rotating birefringent sphere.
These discoveries have facilitated the study of a wide range of phenomena, including cell adhesion, rheology of microfluids, DNA twisting, microscopic forces and the development of synaptic connections—exemplifying the idea that 'optics transcends all boundaries'.
Professor Rubinsztein-Dunlop also has a distinguished record of achievement in laser cooling and trapping of atoms, and her group have demonstrated experimental milestones in quantum chaos and dynamical tunnelling of ultracold atoms.
Recently, they successfully observed Onsager vortex clusters, a fundamental coherent structure in two-dimensional turbulence—an observation that had evaded experimental attempts since the prediction of these structures more than 70 years ago.
Media: Professor Halina Rubinsztein-Dunlop, halina@physics.uq.edu.au, +61 410 643 095; Kristen Harley, comms@equs.org.