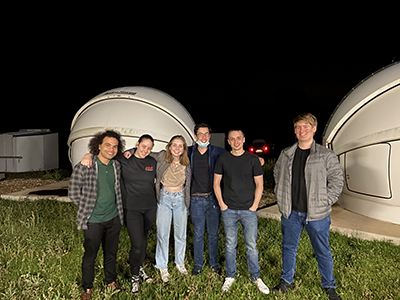 Fourth-year astrophysics students were excited to embark on the annual tour to USQ's Mt Kent Observatory on Thursday, 7 October 2021. With expectations of observing an exoplanet, the students encountered one of astronomy's most typical obstacles: Toowoomba's sky was obscured by clouds. 
The excursion began in the early afternoon and lasted until late in the evening with the hope that the clouds would eventually clear. What was to be an evening viewing expedition became an enlightening theory course on a plethora of topics in space and astronomy. Students discussed space history, new discoveries, life on Mars, and the possibility of life on Venus. Dr Sarah Sweet and Dr Ben Pope led the PHYS4080 and PHYS7280 students on their journey and contributed their own perspectives on space. 
The students also learned how to interpret astrophysical data to discover a planet, as well as how each planet's dimming pattern provides insight into its features. The students' project focus was data collection for WASP-43b, a Jupiter-sized planet discovered in the orbit of the Sunlike star WASP-43. Dr Duncan Wright from USQ led the seminar, guiding students through the process of calibrating a test set of telescope observations.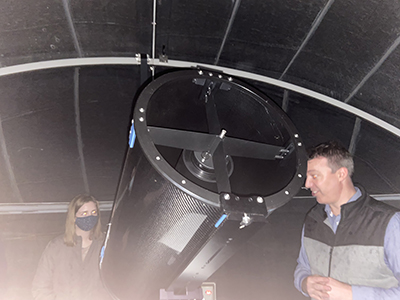 The undergraduates stated that the night sky was the "darkest they'd ever seen" from Toowoomba's famed observatory, and rather than letting the clouds spoil their evening, they decided to make their own fun. Students took advantage of the app 'Skywalk2' to commentate on the pitch-black night and help one another uncover what would have been visible from below. Although the evening began with unfortunate weather, the formed bond from the students became the tour's biggest highlight.