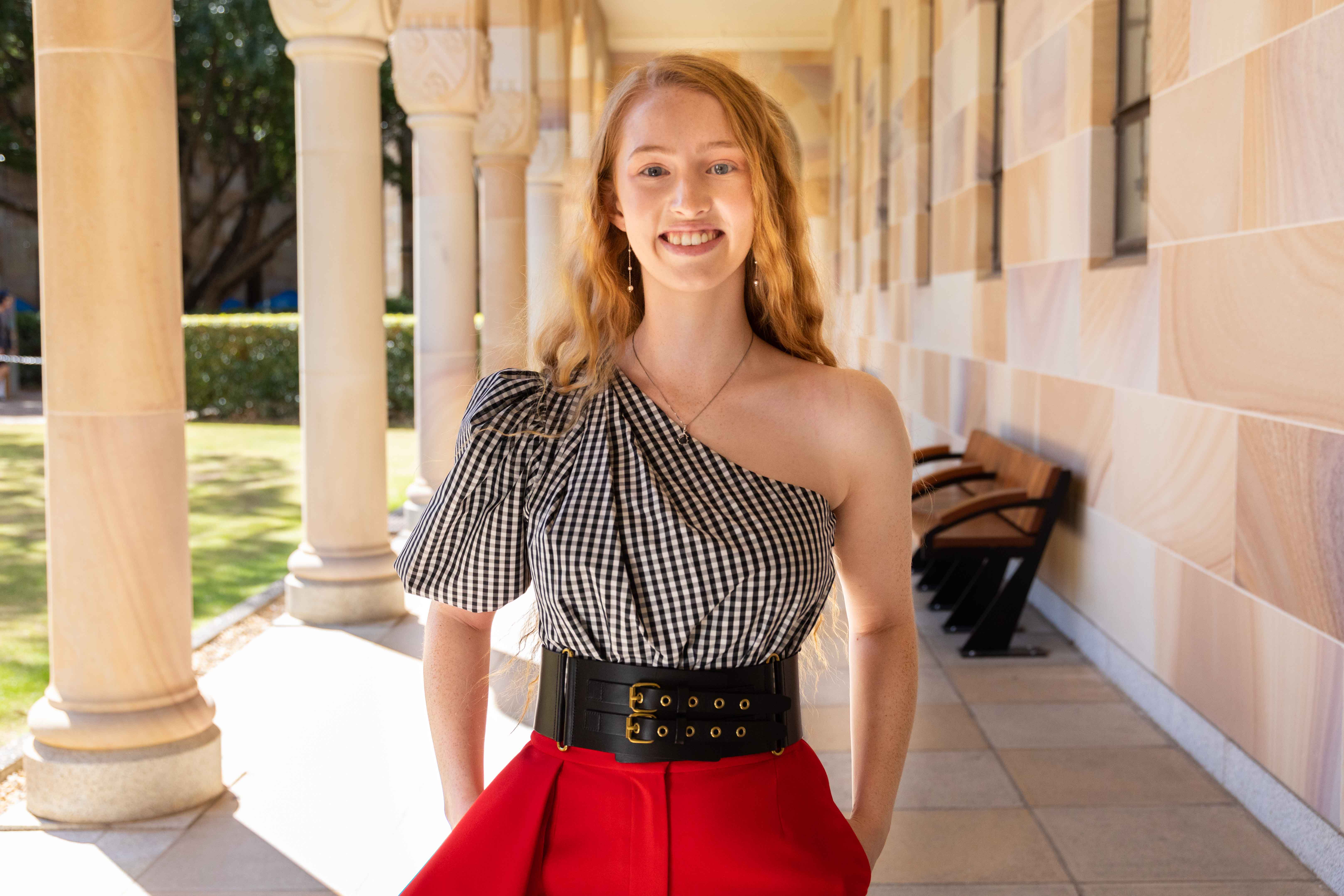 Emerald Gaydon has always been a curious person – always fascinated with understanding from the ground up why certain things happen, and how they happen.
As a child, Emerald was inspired to become an astronaut after watching a video of the now-retired Canadian Astronaut Chris Hadfield floating around in microgravity on the International Space Station.
This dream has continued to fuel her curiosity. While undertaking astrophysics work experience at the Australian National University's Mount Stromlo Observatory at age 15, Emerald made a scientific discovery, calculating the previously unknown distance to a galaxy.
In 2018, Emerald was awarded The University of Queensland's Excellence Scholarship and after a gap year of solo travelling, commenced her Bachelor of Science degree (majoring in Physics) in 2019 with a warm welcome from UQ's Science Academy Leaders.
"I can remember being warmly welcomed to UQ on orientation day by a bunch of charismatic and inspiring Science Leaders," says Emerald.
"This kind, welcoming gesture had a massive impact on my early experiences as a new student which inspired me to become one of those Science Leaders welcoming new students the following year!"
Since becoming Science Leader, Emerald has since gone on to hold the position of Student Orientation Coordinator for the past 3 semesters, where she has organised orientations for more than 1500 students and coordinated a team of more than 150 Science Leaders.
During her time at UQ, Emerald has continued to flourish both inside and outside the classroom.
In 2020, she was awarded the National Council of Women of Queensland (NCWQ)'s Science Bursary Award, and each year since 2019 has received the University's Dean's Commendation for Academic Excellence.
Earlier this year, Emerald conducted a student-led partnership within UQ's School of Mathematics and Physics (SMP) that investigated the experiences of women and other gender minorities.  As a result of the findings of this partnership, Emerald has begun a dedicated support network for women and gender diverse students within SMP, and she was also invited to present her findings to the CSIRO's Women@AEHRC (Australian eHealth Research Centre).
While Emerald is grateful for the scientific knowledge, expertise and research experience gained to date, she attributes much of her learning and character development to being actively involved in UQ's Science Leaders Academy, Leadership and Mentoring Program (LaMPS), Physics Club (UQ Pain) and activities such as aiding the founding of UQ's Stargazing and Astronomy Society.
A driving force fuelling Emerald's outstanding leadership and volunteering contributions is her vision of seeing more young people actively engage in science and mathematics – both in school and later in life.
This led her to join UQ's Science Demo Troupe, a science communication organisation within UQ's School of Mathematics and Physics (SMP) aimed at engaging the public and school students in science.
In 2022, Emerald had the opportunity to present her own science shows to more than 5,900 people as part of the Regional World Science Festival Tour to Townsville and Gladstone.
"That feeling of connection - seeing people's eyes light up with awe and curiosity - is an incredibly rewarding experience," Emerald says.
"Being part of the troupe has given me a meaningful outlet to channel my love of science, develop new skills and steer me towards a career path that now includes science communication."
While Emerald's ultimate life goal is still becoming an astronaut on future lunar or mars missions, she's currently working towards a research and science communication career that sits at the crossroads of quantum physics verging on neuroscience and artificial intelligence. She aims to utilise her background in public speaking to spark similar curiosity in the minds of the public.
"I have begun research in Quantum Physics, specifically Quantum Technology, in which I am a part of designing neuromorphic hardware that is designed to support neuromorphic, artificial intelligence software in computers," Emerald says.
"I hope to combine my research with a career in Science Communication, in which I would love to be a science documentary and TV communicator in the future."
But for now, Emerald is excited to begin studying at the National University of Singapore, from August 2022, as part of the Westpac Asian Exchange Scholarship Program.
Emerald was one of three UQ recipients and one of only 35 students from across Asia Pacific to receive the prestigious scholarship, which includes the opportunity to study at a leading university in Asia plus bespoke leadership development training.
"I am looking forward to taking a peek into the culture of physics research labs in Singapore, and into the field of science communication in Singapore," she says.
"I'm also excited to experience life in a different culture – Singapore has such an amazing blend of cultures, and I am very eager to explore this, as well as visit nearby countries too."