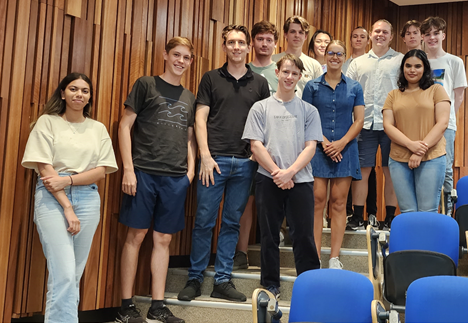 Over the summer of 2022/23, SMP organised placements for 24 Maths/Stats/Physics students under the SMP Summer Industry Experience program.
On Thursday, 16 March 2023, 17 of our interns gave presentations on their internship experiences with SMP industry partners at a showcase event hosted by the SMP Head of School, Professor Joseph Grotowski and the SMP Industry Team Dr Meagan Carney and Associate Professor Arkady Fedorov.
Limao Chang (Fugro Australia Land)
Nicholas Chay (Office of the Queensland Chief Scientist)
Mitchell Clark & Mitchell Keegan (Oracle Labs)
Hannah Coster (Queensland Health) & Patrick Donovan (Veitch Lister Consulting)
Zayne Jensen (SilverRail)
Jennifer Kim (SilverRail)
Riya Mathur (Queensland Health)
Jasper McEwan (CSIRO A&F)
Jake Moss & Christopher O'Brien (Outer Loop Consulting)
Sam Nolan (CSIRO A&F)
Nicholas Rand (Auto & General)
Daniel Roy (CSIRO A&F)
Dominic Scocchera (GRABBA Technologies)
Arshia Sharma (Queensland Health)
The projects provided by our industry partners were both diverse and challenging, and it was wonderful to see how well our interns rose to the challenge.
Each of the presentations gave a fascinating insight into how the skills developed in studying mathematics, statistics, physics and data science are being applied in the workplace at a time of accelerated technological change.
Congratulations to those who presented and to our industry partners for providing the opportunities!