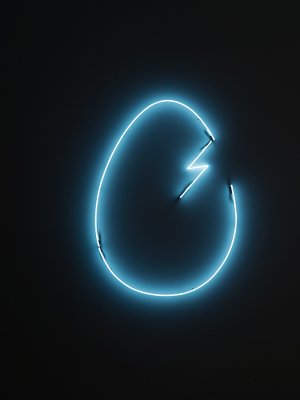 Some of Australia's best physics research takes place at The University of Queensland, so it is fitting that the UQ Art Museum is celebrating the International Year of Light and Light-based Technologies (IYL 2015).
IYL 2015 is an initiative of the United Nations Educational Scientific and Cultural Organization (UNESCO).
Light was inextricably linked to the way the world was perceived, and to the creation and appreciation of art, said Samantha Littley, curator of the exhibition Light Play: Ideas, Optics, Atmosphere.
"Artists have always been captivated by light," Ms Littley said.
"Art is tied to vision and the act of looking, realms that light technologies are continuing to expand.
"Recent advances have made light sources such as lasers and light-emitting diodes (LEDs) more affordable, providing solutions to humanitarian concerns, revolutionising display technologies, and generating new forms of artistic expression that connect to this contemporary moment."
Ms Littley said Light Play explored the diverse approaches contemporary artists were adopting in response to the elemental phenomenon of light.
"The significance of light to perception, and its importance historically, culturally, and scientifically, creates dialogues across time that trace multiple points of reference," she said.
The exhibition's artworks were grouped into the sub-themes of Ideas, Optics and Atmosphere.
"Ideas incorporates light elements with metaphorical qualities, Optics explores the physical properties of light and its ability to generate visual effects, and Atmosphere examines light's potential to create ambience," she said.
The exhibition's 27 artworks were drawn mostly from The University of Queensland Art Collection. They include photographs, light boxes, works in neon, light-emitting sculptures, paintings with light-inflected surfaces and a digital hologram.
UQ School of Mathematics and Physics lecturer and member of the Australian organising committee for IYL 2015 Dr Margaret Wegener has been the UQ Art Museum's academic collaborator on the exhibition.
"Art and science are sometimes regarded as being at opposite ends of a spectrum, but actually they share deep connections," Dr Wegener said.
"Both optical scientists and visual artists observe nature, and endeavour to say something about the world around us. In this respect, they share the impulse to play with light. 
"As a physicist, I find it satisfying that Light Play functions as a kind of survey of what light does – in the exhibition, light is emitted, refracted, reflected, transmitted, scattered, and absorbed."
Light Play: Ideas, Optics, Atmosphere opens on Saturday, 15 August at the UQ Art Museum (map here) and runs until 15 November.
Members of the public are welcome to join a curator's tour with Ms Littley from 5 to 6pm on Friday, 14 August.  Afterwards, UQ School of Music student Ben Heim will present new compositions in a live "soundscape performance" during the exhibition opening.
Image: Nell The Dr. said it was like being hit by lightning 2013, Courtesy of the artist and Roslyn Oxley9 Gallery, Sydney.