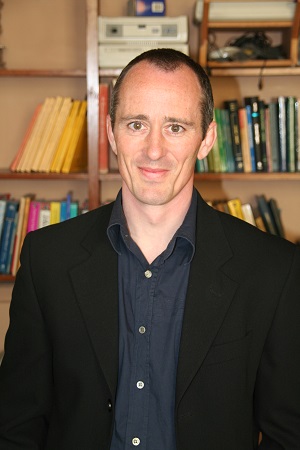 The University of Queensland's Professor Ole Warnaar has been announced as a joint winner of the 2020 George Szekeres Medal for his outstanding contribution to the mathematical sciences.
The prestigious accolade is awarded every two years by the Australian Mathematical Society to a recipient with an excellent record of promoting and supporting the discipline of mathematics.
Professor Warnaar, Chair and Professor of Pure Mathematics at UQ, is a leading expert in special functions, partition theory and algebraic combinatorics, and was awarded along with The University of Sydney's Professor Nalini Joshi.
Professor Warnaar has made a number of breakthrough contributions in each of these fields, often making use of techniques from a variety of different areas of mathematics to solve outstanding problems.
"It's an unexpected but great honour to be awarded the 2020 George Szekeres Medal by the Australian Mathematical Society," Professor Warnaar said.
"It feels somewhat surreal that my peers have judged me worthy of the medal.
"I sincerely hope that I won't be informed just before the award ceremony that 'a small mistake has been made...'."
The humble professor has shown his dedication to the mathematics community through his work on the ARC College of Experts, and the MATRIX and AMSI Scientific Boards, as well as being responsible for The University of Melbourne/ACEMS School Mathematics Competition, and Chair of the organising committee of the Simon Marais Mathematics Competition, a competition for undergraduate students in Australasia.
He said it was not only an honour to win the award, but to be able to pursue a successful career as a mathematician.
"This probably applies to many research academics, but I've been really privileged to be able to do what I love for more than 25 years, thanks in no small part to my wife Celestien," Professor Warnaar said.
"Progress in mathematics is often very slow, requiring a lot of patience and persistence, but I cannot think of many things that are more exciting than when the penny finally drops, and you discover that beautiful theorem or missing proof.
"It leaves me to wonder why it is that not more people wish to pursue a career in mathematics."
Professor Warnaar will now be welcoming in 2021 as the incoming President of the Australian Mathematical Society.
"On Thursday I will commence my two-year term as President – that might be my biggest challenge yet."
The next George Szekeres Medal will be awarded in 2022, with former winners listed on the Australian Mathematical Society website.
Media: Dominic Jarvis, dominic.jarvis@uq.edu.au, +61 413 334 924.