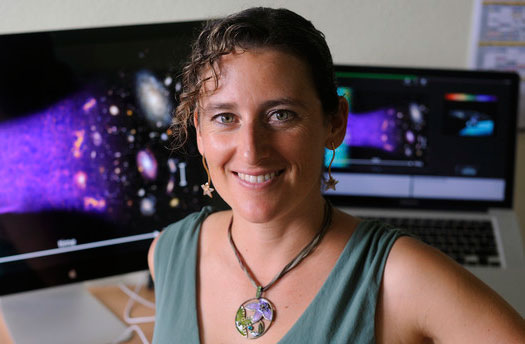 University of Queensland astrophysicist and science communicator Professor Tamara Davis has been awarded the prestigious Robert Ellery Lectureship.
The accolade is biennially awarded by the Astronomical Society of Australia for contributions to astronomy, or an astronomy-related field, in the southern hemisphere.
Professor Davis said it was a great honour to have her work acknowledged through the Lectureship.
"Many of my supervisors and mentors are amongst the past recipients, so it's incredible to be counted amongst that prestigious crew," she said.
"Many Australians simply don't realise how special our view of the sky is, with a fantastic view toward the centre of the Milky Way.
"One of the reasons Australia is so well known for astronomy is it's southern hemisphere location.
"We can see parts of the sky our northern hemisphere colleagues are blind to, and our telescopes beautifully complement the ones in the high mountains of Chile."
The prize has only been awarded 16 times since the prize's inception in 1991, with Professor Davis becoming only the third female to receive the award, and the very first from UQ.
The lauded professor's research has searched the cosmos, looking for answers to some of the universe's biggest questions.
"My research has involved theoretical cosmology, supernovae, and the large-scale distribution of galaxies," she said.
"Lately I've been looking a lot at gravitational waves as well.
"These provide a new amazing window we now have on the universe, where we can feel space rippling as two black holes collide, and there's plenty of awesome new science we can do with that."
The recipient of the Lectureship is invited to present a keynote lecture at the Annual Scientific Meeting of the Society.
Robert Ellery was Director of Melbourne Observatory for much of the second half of the 19th century, and one of the outstanding workers in Australian astronomy during that era.
More information about past recipients of the Lectureship can be found via the Astronomical Society of Australia's website.
Media: Dominic Jarvis, dominic.jarvis@uq.edu.au, +61 413 334 924.