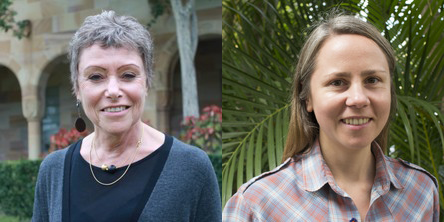 Two incredible University of Queensland physicists have taken out top awards for their world-leading research exploring the interaction of light and matter, and the nature of time.
Professor Halina Rubinsztein-Dunlop has won the 2020 Harrie Massey Medal and Dr Magdalena Zych has won the 2020 Ruby Payne-Scott Award, both awarded by the Australian Institute of Physics.
Professor Rubinsztein-Dunlop said she was touched and humbled to receive the prestigious nod.
"It's very rewarding to be awarded a medal that recognises my research and its importance," she said.
"I love what I'm doing, and to be recognised for it could possibly mean that other people will feel inspired to follow their dreams."
The much-lauded Professor's research is all about light and matter interaction.
"My work looks to understand what happens at the nano- and micro-scale when light interacts with matter, how the energy and momentum of light can be transferred to matter, and what effects these transfers will cause," she said.
"This builds a basic understanding of the physics behind these phenomena, which can then be used for applications into very precise sensing and development of new devices, with applications in highly interdisciplinary fields, such as engineering, biology and medicine.
"Into the future, I'd like to be able to contribute, through my research, to answers to some of the unanswered questions at the borderline of classical and quantum physics.
"Findings in this field may also help solve the complexities of still-not-fully-understood complex biological systems.
"I'm very excited about our latest research, where we're using our optical micromanipulation methods to study the behaviour of living biological cells."
Dr Magdalena Zych was equally delighted to accept the Ruby Payne-Scott Award, which recognises outstanding contributions made by a physicist just beginning their career.
"I bursted with excitement when I heard I won, then thought, oh no, they may want me to give a speech at some point," Dr Zych said.
"This is tremendous recognition for my research program, which asks fundamental questions about the nature of time in physics.
"Time is viewed differently in our two most fundamental physical theories: quantum mechanics and Einstein's theory of gravity.
"In quantum mechanics time is viewed the same as in our everyday life, it just moves forward, and crucially, signature quantum effects arise from the fact that any system can be delocalised over different positions in space.
"In Einstein's theory of gravity, time can flow at different speeds at different locations in space, for example, time passes slower near the surface of Earth than higher up.
"The question then was: how does time flow for a quantum system that is delocalised over different positions in space where due to gravity time flows at different speeds?
"To answer this, my research considered what would happen if I had a tiny quantum clock, for example, a particle, and I placed it in such a delocalised state over regions where time flows differently due to gravity.
"This led to a prediction of a novel effect where time itself can be quantum-delocalised.
"We are looking now at a variety of quantum technology platforms, such as those used for high-precision measurements, and explore how the new effect and other effects of gravity on quantum particles therein can be mitigated, or perhaps even harnessed, for their best performance."
More information about the awards and other winners can be found on the Australian Institute of Physics website.
Media: Dominic Jarvis, dominic.jarvis@uq.edu.au, +61 413 334 924.