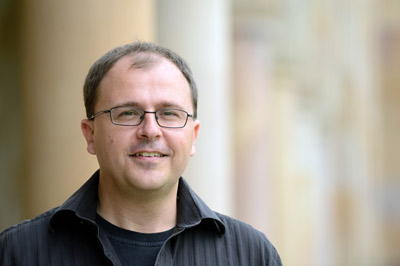 Congratulations to University of Queensland quantum physicist and ARC Centre of Excellence for Engineered Quantum Systems (EQUS) Director Professor Andrew White who has been awarded a 2021 Australian Laureate Fellowship.
Professor White has been awarded $3,245,263 to develop artificial intelligence (AI) platforms, using Australia's substantial investment in quantum technologies to bypass traditional approaches to AI.
On receiving the Fellowship, Professor White said the Laureate is a fantastic opportunity to do research that brings together things that don't look related at all—biology, cognition, quantum technologies—and form a team of outstanding young scientists and engineers all thinking of new ways to apply these things to the wickedly hard problem of AI.
"AI is transforming society, but standard technologies come with substantial hidden costs: training even a single, common, learning model can emit five times more carbon dioxide than the lifetime emissions of the average car," he said.
The goal of Andrew's Fellowship is to build neuromorphic computers that operate efficiently (low-energy cost) and rapidly (achieving speeds impossible with conventional electronic approaches), and to deliver transformative technologies for AI, new applications across society, and new tools for exploring brain function and cognition.
"The technology will be physically small but contribute large value-add—both very desirable qualities as the Australian government looks to diversify its export complexity," he said.
"It maps superbly onto the National Science and Research Priority of 'Crosscutting technologies that will de-risk, scale up, and add value to Australian manufactured products'.
"New technologies that support the intelligent processing and interpretation of data have led to new industries and economic growth in a relatively short period of time.
"Our research will position Australia to exploit AI founded on quantum technologies, building capacity of the highest calibre."
The EQUS' Quantum Technology Lab, which Andrew leads at the University of Queensland, has decades of experience exploring problems in biology, chemistry and physics by creating, manipulating and detecting quantum light.
This puts them in a great position to combine Australia's best tools for creating nanophotonics with world-leading leading expertise in developing and applying quantum theory to problems in cognition and computation.
"I can't wait to see what we discover," Professor White said.
For more info and the full list of 2021 Laureates, visit the ARC website.