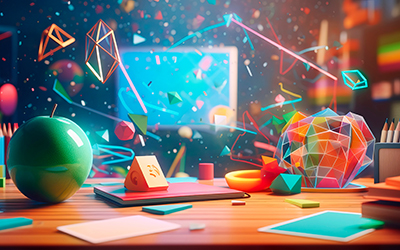 The most prestigious event on the Australian mathematics calendar – the Australian Mathematical Society's Annual Meeting, AustMS 2023 – is coming to The University of Queensland this December.
The meeting will be hosted by UQ's School of Mathematics and Physics from 5 to 8 December at its St Lucia campus, the first time it has been held at UQ since 2010.
UQ's Associate Professor Artem Pulemotov is Conference Director and will be helping coordinate the event, promising it to be an exciting exploration of all things mathematics.
"We're thrilled to be featuring some of the country's, and the world's, best mathematicians at The University of Queensland," Associate Professor Pulemotov said.
"Whether it's algebra, geometry, combinatorics, computational mathematics, analysis, topology, financial mathematics or mathematics education, there'll be sessions for every maths-minded researcher.
"We're hoping to spark new discussions and debate, pushing the boundaries of mathematical knowledge, while forging new friendships and professional connections."
Beyond exploring the latest in mathematics, the meeting also features the Society's AGM and the presentation of some of the nation's most prestigious mathematical awards.
The meeting will also feature events designed to foster and support women in mathematics and an LGBTQIA+ and allies' lunch.
The AustMS 2023 Education Afternoon brings together high-school maths teachers and academics for an afternoon of practical and thought-provoking discussions in maths education.
This year, the event will host a panel comprising first-year undergraduate students, high-school maths teachers and academics to discuss the first-year mathematics experience, and will include a workshop on action research.
Associate Professor Pulemotov said hosting the event at UQ reflects the high regard in which the Australian mathematical community holds the UQ School of Mathematics and Physics.
"UQ excels in various fields, including pure mathematics, applied mathematics, mathematical physics, and statistics and probability," he said.
"Our school comprises over 50 staff members specialising in various subdisciplines and offers a range of esteemed programs, such as Bachelor of Mathematics, Master of Data Science, and Master of Financial Mathematics.
"Our researchers collaborate with both the academic community and industry partners, including CSIRO, Boeing, Queensland Health and Suncorp."
"UQ is the ideal place to bring our best mathematical minds together – I can't wait for it to kick off."
Registration is essential and available via the AustMS 2023 website.
The University of Queensland would like to recognise and thank its fellow sponsors Optiver, The University of Sydney's Mathematical Research Institute and the Queensland University of Technology.
Media: Faculty of Science Media, science.media@uq.edu.au, +61 438 162 687.